Recently I was invited by a friend in Munich to a reading of poetry by an Iranian writer, who died much too young in 1967, only reaching 32 years of age. Forugh Farrokhzad (1935-1967) was exceptional among woman in modern Persian literature, since only an extremely small number of Iranian women in general have achieved anything outside of the home without dependence upon a relationship with a man or male patronage.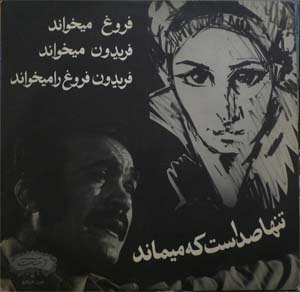 From the poems of Forough Farrokhzad, which Kianoosh presented this evening I remember the verses from "Another Birth"
… Life may be that cloistered moment
When my gaze comes to ruin in your pupils
Wherein there lies a feeling
Which I shall blend …
During her short life, Forough not only wrote some of the most influential, beautiful and ever-lasting poetries of modern Persian literature, but she also became a proponent of childrens right, in particular for those from the poor families. Her engagement for the children being isolated and hospitalized for leprosis laid in her honest sympathy with those who are suffering. Unlike modern celebrities, who too often present themself in public with an alibi "social" project, Foroughs activites to help the children with leprosis came from her very personal desire to make the world a little bit better.

From the movie "Moon, Sun, Flower, Play" by the German director Claus Strigel one can listen to Foroughs voice, hear how colleagues and friends remember this extraordinary woman and watch scenes from the street-battle preceding the Shahs dismissal and from the childrens leprosis hospital.