Yet the official results are not announced, but this time the Iranian officials have a valid explanation for this: against all forcasts, the 2013 ballots were frequented by more than 70% of all eligible voters and thus had to be kept open for an additional 5 hours.
It seems that when the counting started at 9 pm CET or midnight in Tehran, the volunteers had a long and sleepless night to spent. Now, with the first pre-result estimates (after counting 90% of all votes) there seems to be a likely winner: Hassan Rouhani, who recently gave an enthusistic speech and demands more freedom, less dogmatism: a agenda, that was greeted with passion by his young and active supporters. If the estimates are right, than 51% of all Iranians trust Rouhani to lead their country into a better future. But it would be to simple to judge the election simply by numbers and percentages, as done in Western countries with their standard and almost boring regular democratic selection process. In Iran, the election day is also colourful and vivid, and looking into the faces of the voters makes us understand a little better what a nation of 80 millions dream of.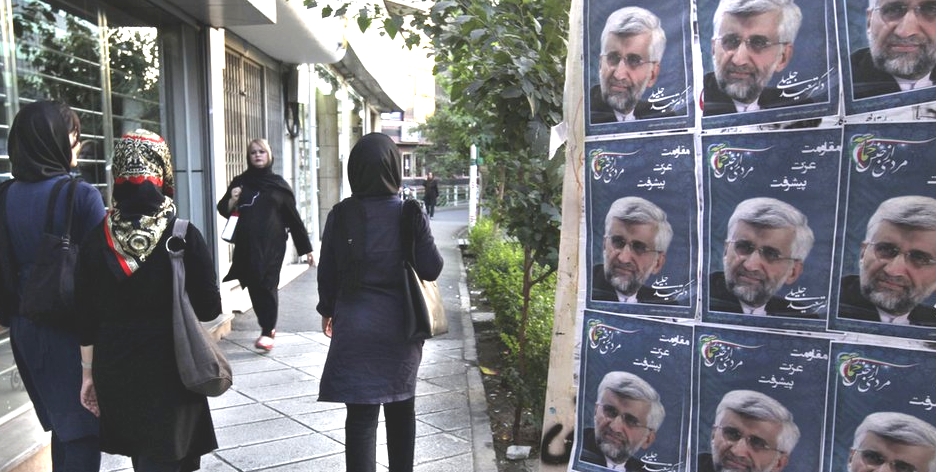 Bill posts showing the presidential candidates on Tehran streets. This particular candidate, Mr. Saeed  Jalili seems to attract much less attention from his own people than he got 4 month ago at the Munich Conference for International Security affairs. He is counted as a hard-liner and not much loved by the Iranian people who are desperatly hoping for change.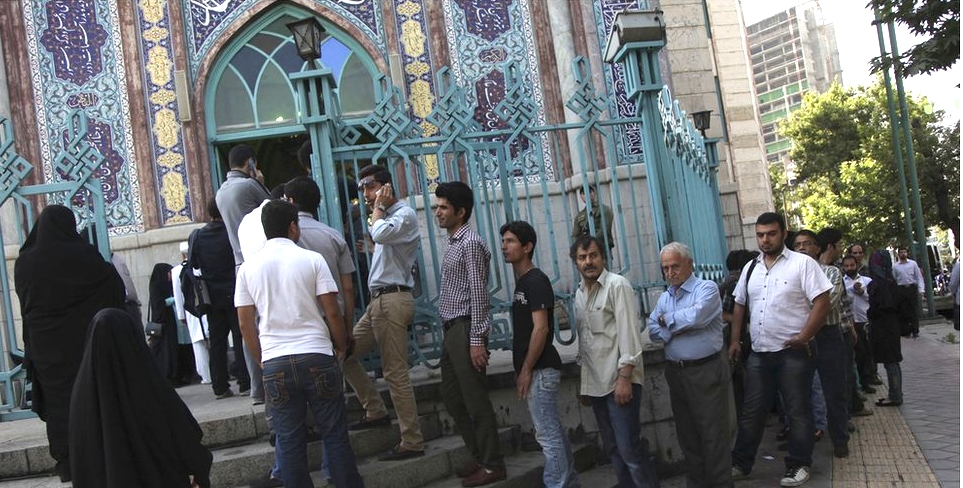 Long queues mark the polling stations and voters are waiting patiently to exploit their right to select the new president.  Due to the unexpected high voter turnout, the polling offices had to stay open till midnight.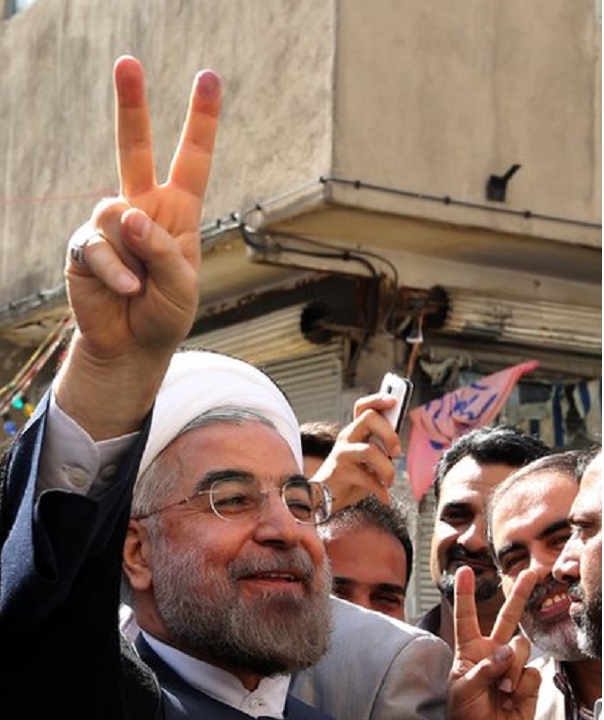 Will this man, Hassan Rouhani end the 12 years of dim and rediculous Ahmadenijad leadership of the country ? Currently, at 11 am local Tehran time the estimates give Rouhani more than 51 %, almost 3 times more than the 2nd next.  In case that the remaining ~ 10% of yet uncounted ballots can not support Rouhanis winning position, there will be a run-off between him and the second best, Tehrans current mayor Mohammad Baqer Qalibaf.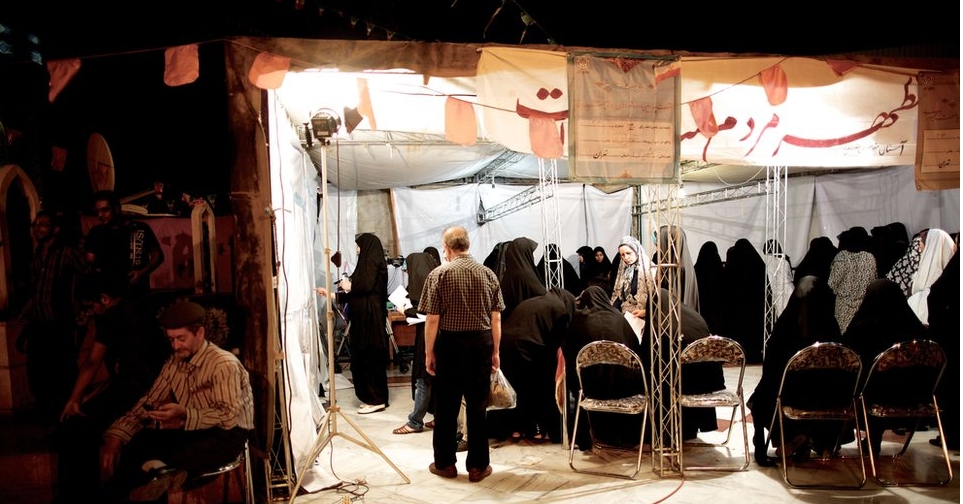 As always in public activities, Iranian laws require a separation between men and women. At this well lid, fabric covered polling bay woman stay among their likes and might not only debate about the president to come, but also about where to buy cheap food and how to raise the children. In any case, both issues will also be strongly depend on the new president whom they give their votes here.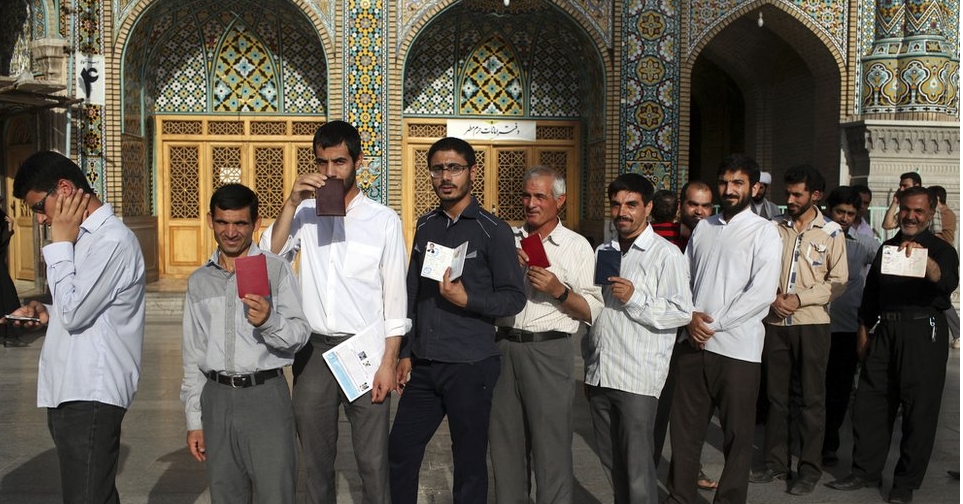 Men, in contrast, like to pose for the camera.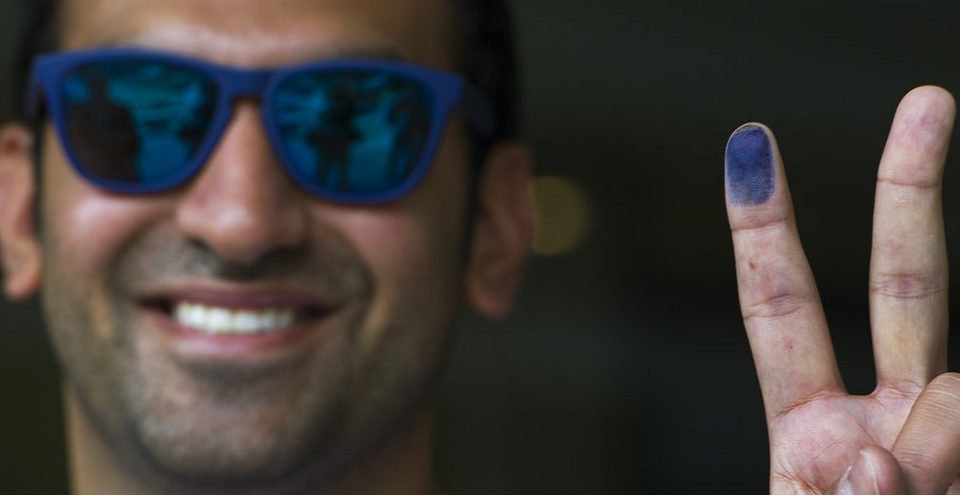 … And if one dares to wear blue glasses, he leaves no doubt whom he will support. The young, educated and modern Iranians hope that Rouhani will be the next president. Mr. Blue-Eyes and Blue Finger on this photography, however, is an Iranian expat in Washington D.C. So for him showing up a liberal and secular life style is easy.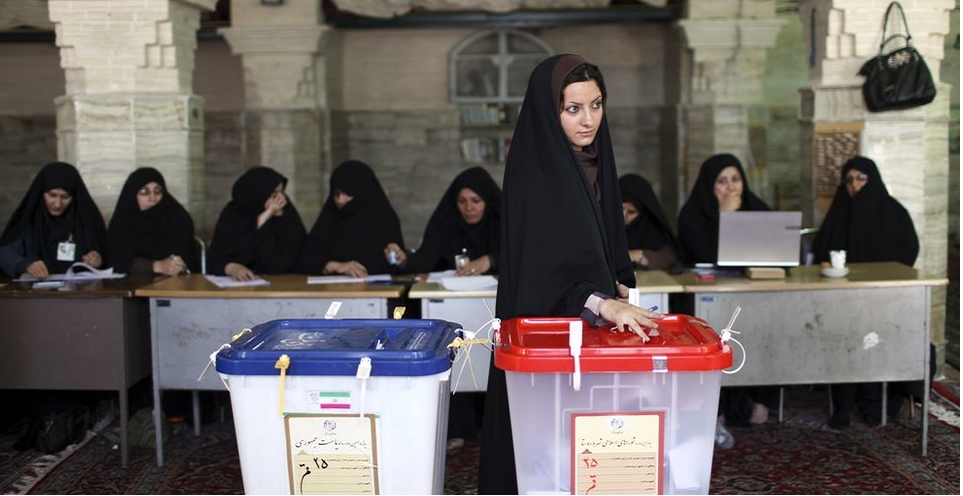 For this Iranian young beauty, however, going to the polls with some inches of hair leaking under her chador is a demonstration of pride and courage.
Thanks BBC for the nice photographs. I hope you don't mind me putting some intelligent captitions on them. In terms of copyright issues, I guess that you have neither asked the Iranian people whom you photographed for permission of publishing them at the BBC website.  So f…k up, old aunty BBC and let me give the people at least a more righteous voice.